IAA Police Badge Combo Glitch!
This works on v1.48 and can be used for both male and female.
We'll use a female for this tutorial!
All you need is an accessory to force a cloud save! (Parachute, Earpiece, Rebreather etc.)
Be sure to check out the Save Wizard if you really want to level up your GTA glitching!
Step 1. Shortlist Your Online Character and a Bird
Start in story mode and go to Director mode. Make sure you have a bird-like the pigeon or ChickenHawk unlocked and add it to shortlist actors along with your online character.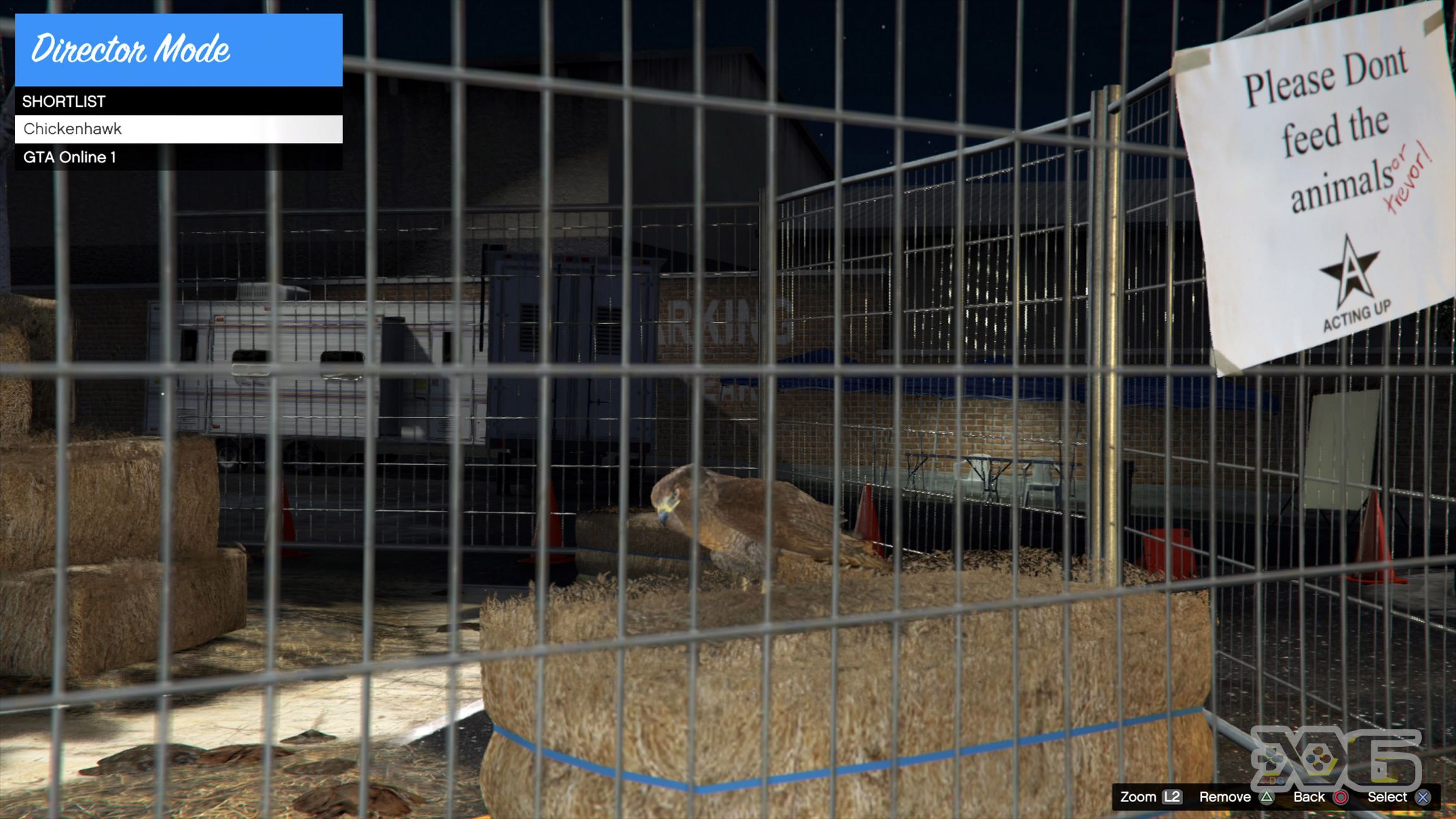 Step 2. Save a Standard Outfit, Cloud Save and then Start & Leave Time Trial
Go to a clothing store and equip any standard outfit. Add the outfit to your saved outfits then head to the Time Trial. (The location of the time trial changes periodically so search for it on your map)
Once at the time trial equip any accessory to force a cloud save. Next, Start the time trial and leave via the character wheel.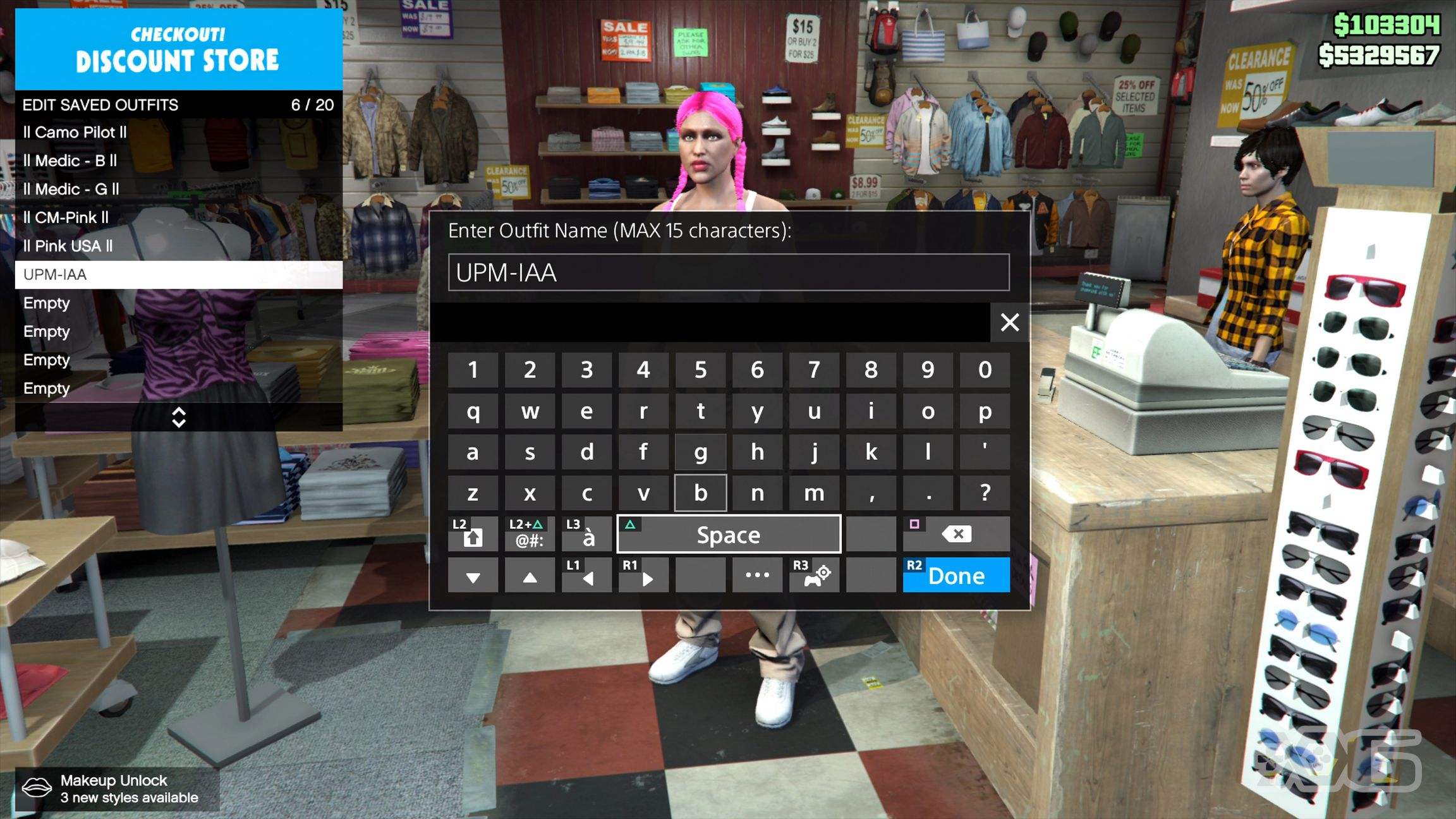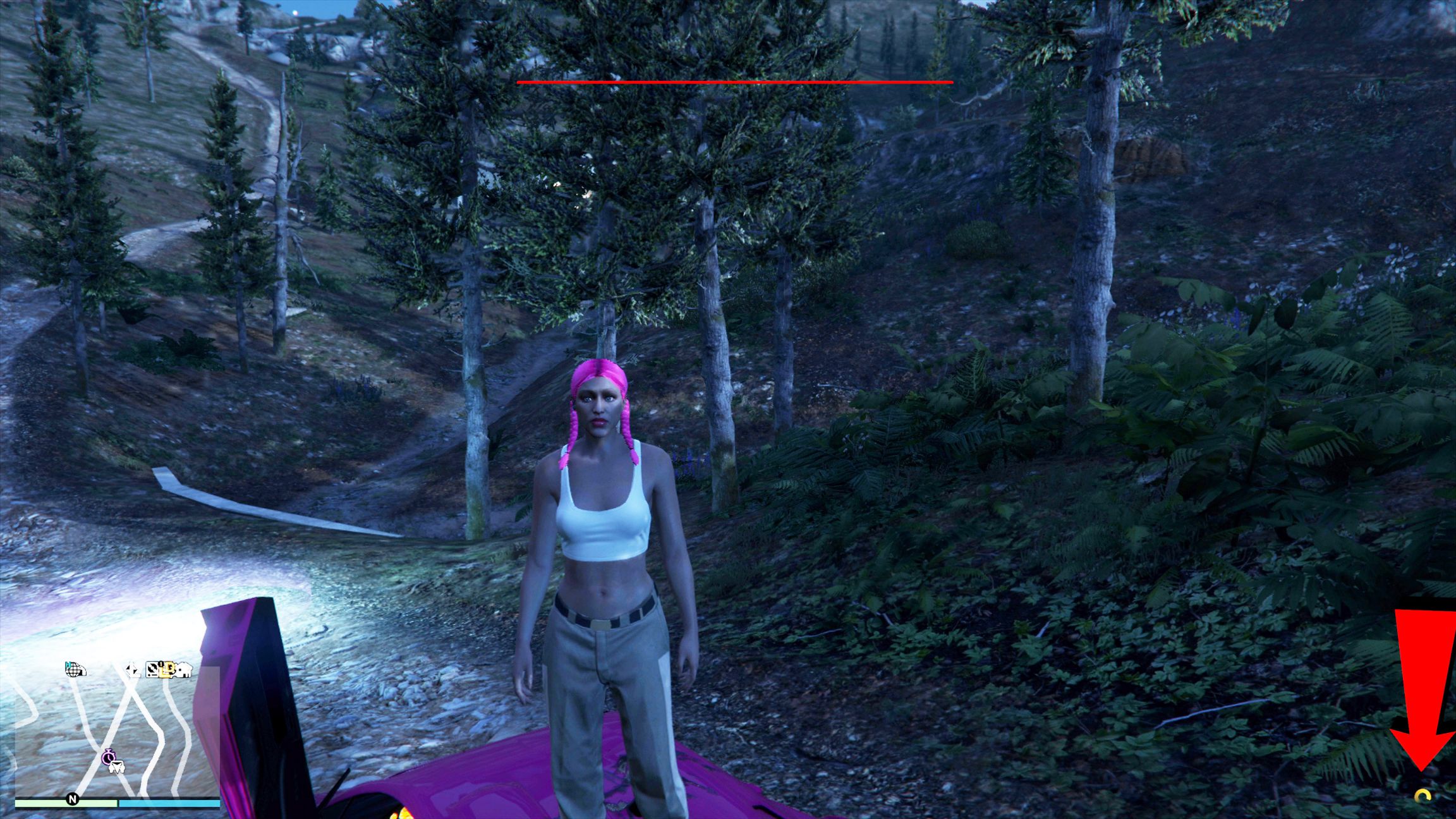 Step 3. Start Director Mode and Switch Between the Bird and Your Online Character
Here you want to go to shortlist actors where you shortlisted the bird and your Online Character. Push 'up' on the analog stick and you will switch between the two. You need to continuously hold up for about 25-30 minutes so use a rubber band or some other creative method and go AFK.
After some time your character will glitch on top of the haystack with the bird. Move on to the next step.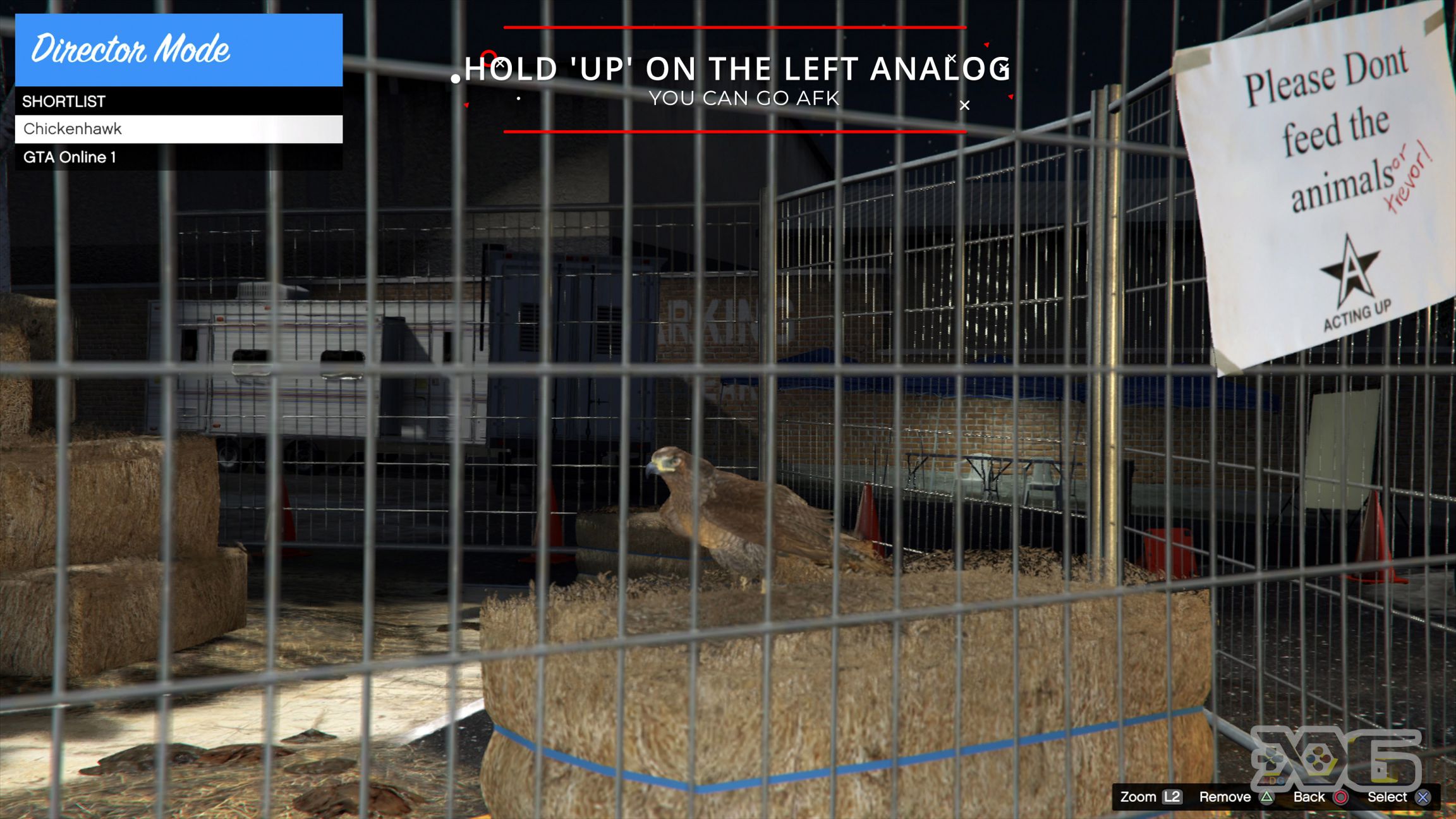 Step 4. Delete Chickenhawk then Search for Glitched Outfits With a Santa Themed Mask
Once Your Character is stuck on the haystack, remove the chickenhawk from the shortlist
Next Go to: actors > beach bums and change gender to 'male'.
Go through each ped type and hit 'square' to change the appearance.
All of the peds here should be glitched and instead, you'll see your character in crazy modded outfits.
If the glitched peds revert to normal characters, don't worry, just shortlist your chickenhawk and swap again.
You won't have to wait for 30 mins and you'll glitch on top of the hay again in no time.
Look for any outfit with a Santa theme and press triangle to shortlist it.
***If you have Save Wizard, you can transfer custom modded outfits to your recent characters list with the penguin mask!
Do as many as you want because you'll be able to add the IAA & Police badge to all characters under 'shortlist actors.'
You can add the badges to custom outfits if you can figure out how to get them shortlisted.
Outfits With a Santa Theme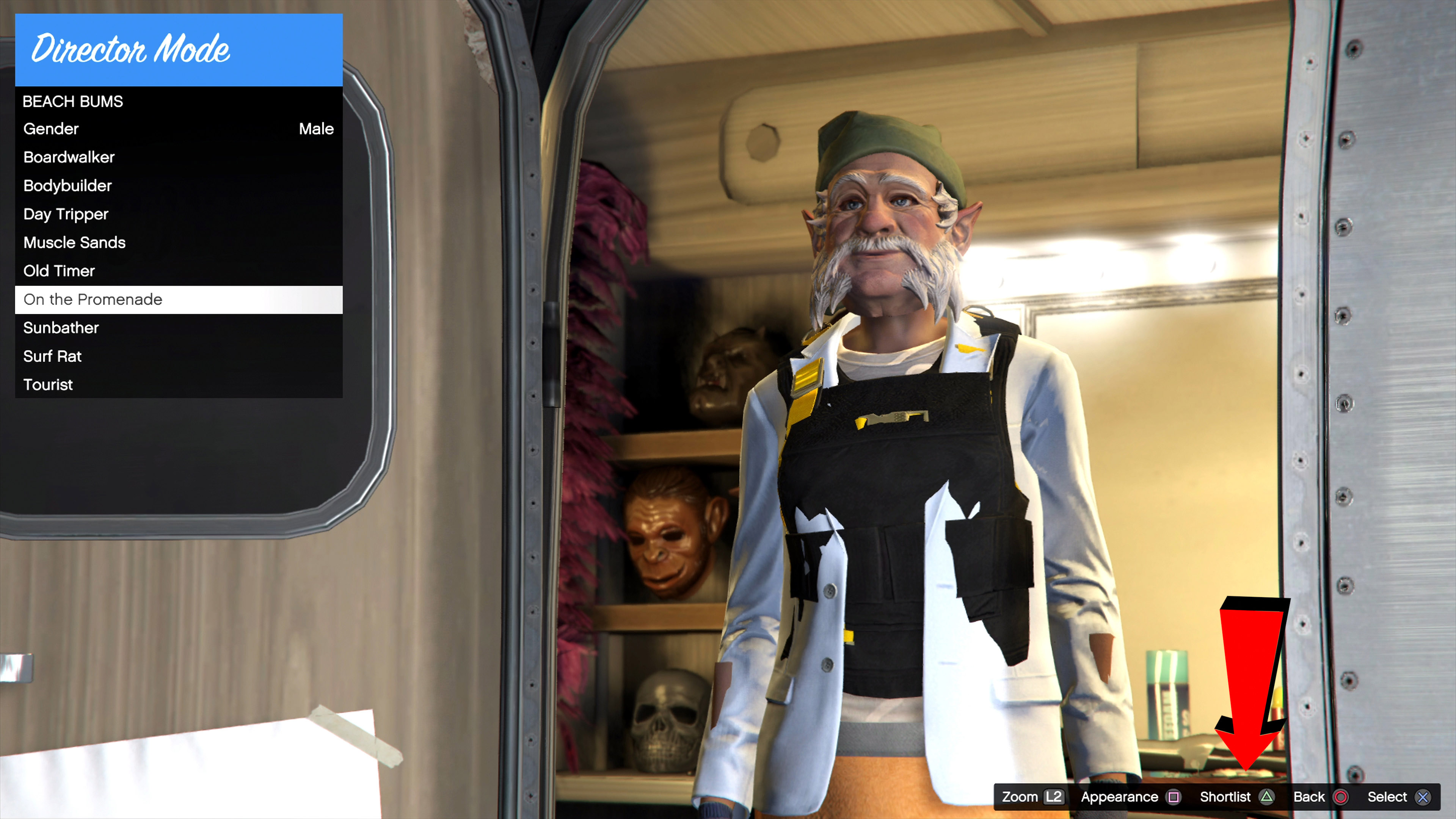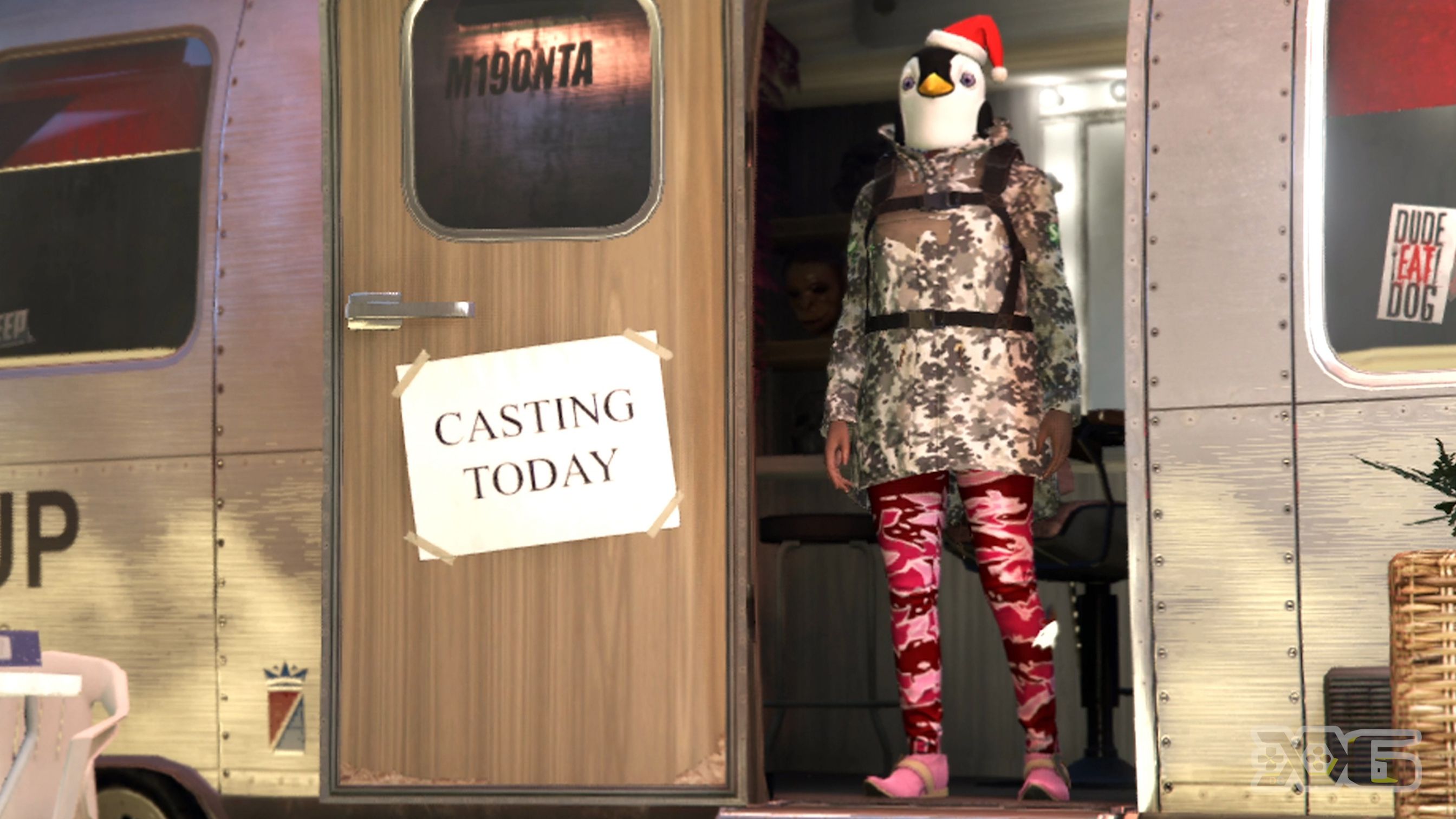 Step 5. Search for a Glitched Outfit with the IAA & Cop Badge Combo
Sometimes you might find an outfit with just the police badge or the IAA badge.
You can risk transferring it to your shortlisted character but there's no guarantee it will work.
N.B. This is the longest and most tedious step of the glitch but you want to take your time and search for a glitched ped with the Police Badge/IAA combo.
Remember to take your time pressing square as you can easily bypass a badge combo and double or triple the time spent looking for them!
Once you have found one move on to the next step.
Hover over 'Paramedic' till the Police Badge/IAA combo pops up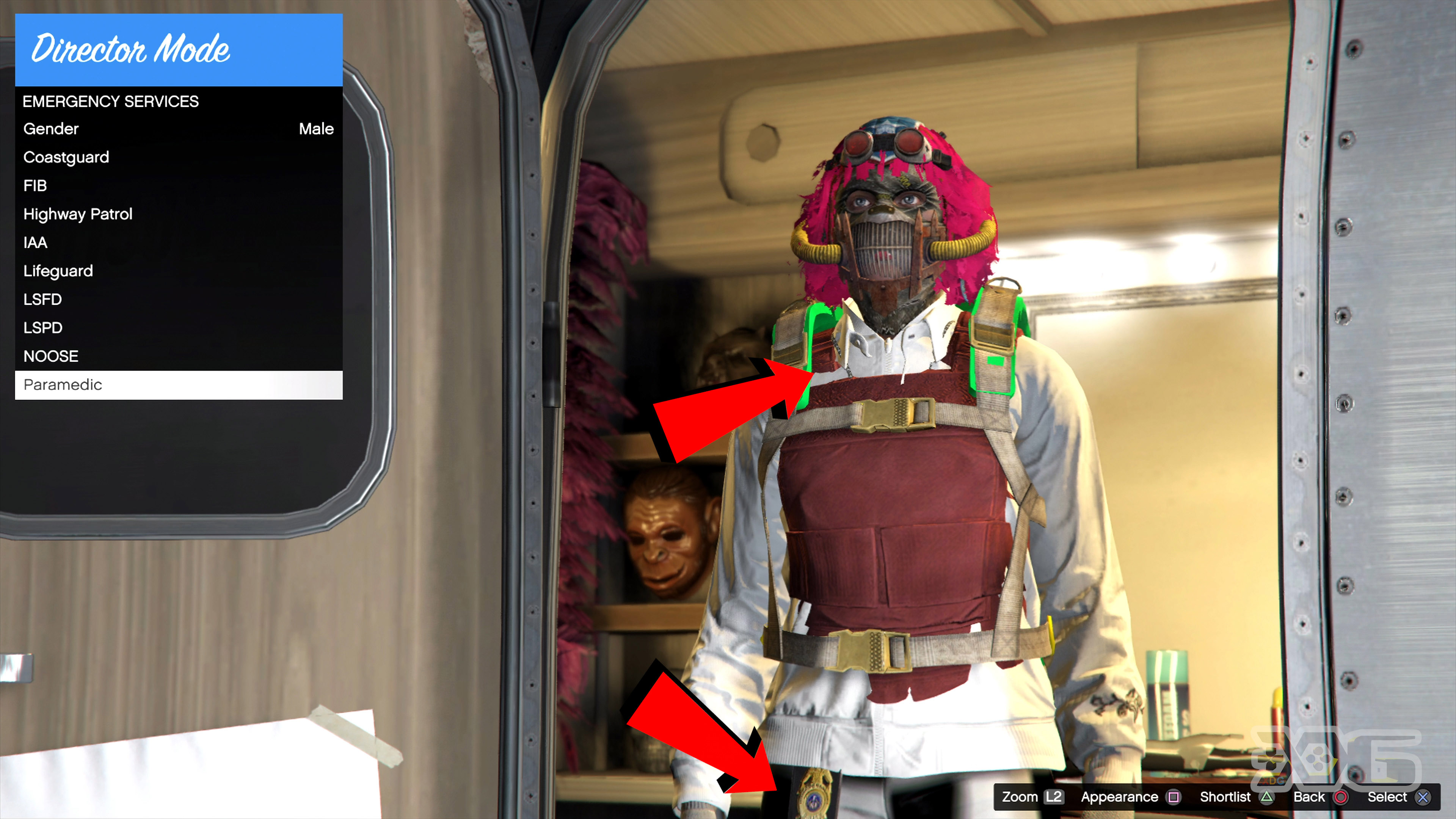 This is the combo but the armor is blocking the IAA badge. You can tell it's the badge by looking at the link.
Step 6. Merge the Badges with a Shortlisted Outfit
Here is where the magic happens. You now want to merge the Police badge and IAA tag to your shortlist actors.
Hover over shortlist actors selection, then press 'X' and 'UP' on the D-pad simultaneously.
You should now see all of the shortlist actors wearing both badges!
Hover over shortlist actors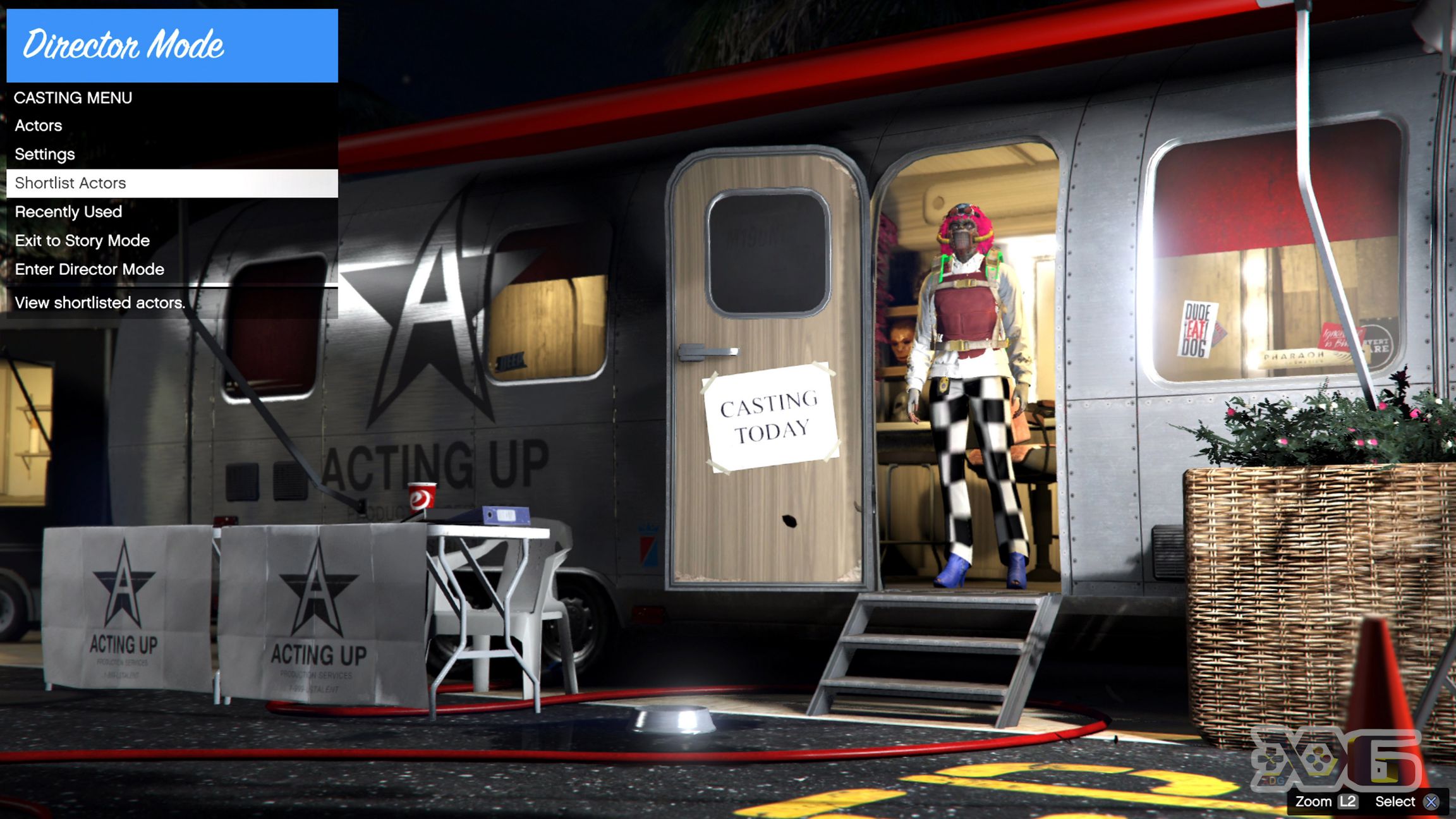 Press X & up on the D-pad simultaneously to merge with your shortlist actors!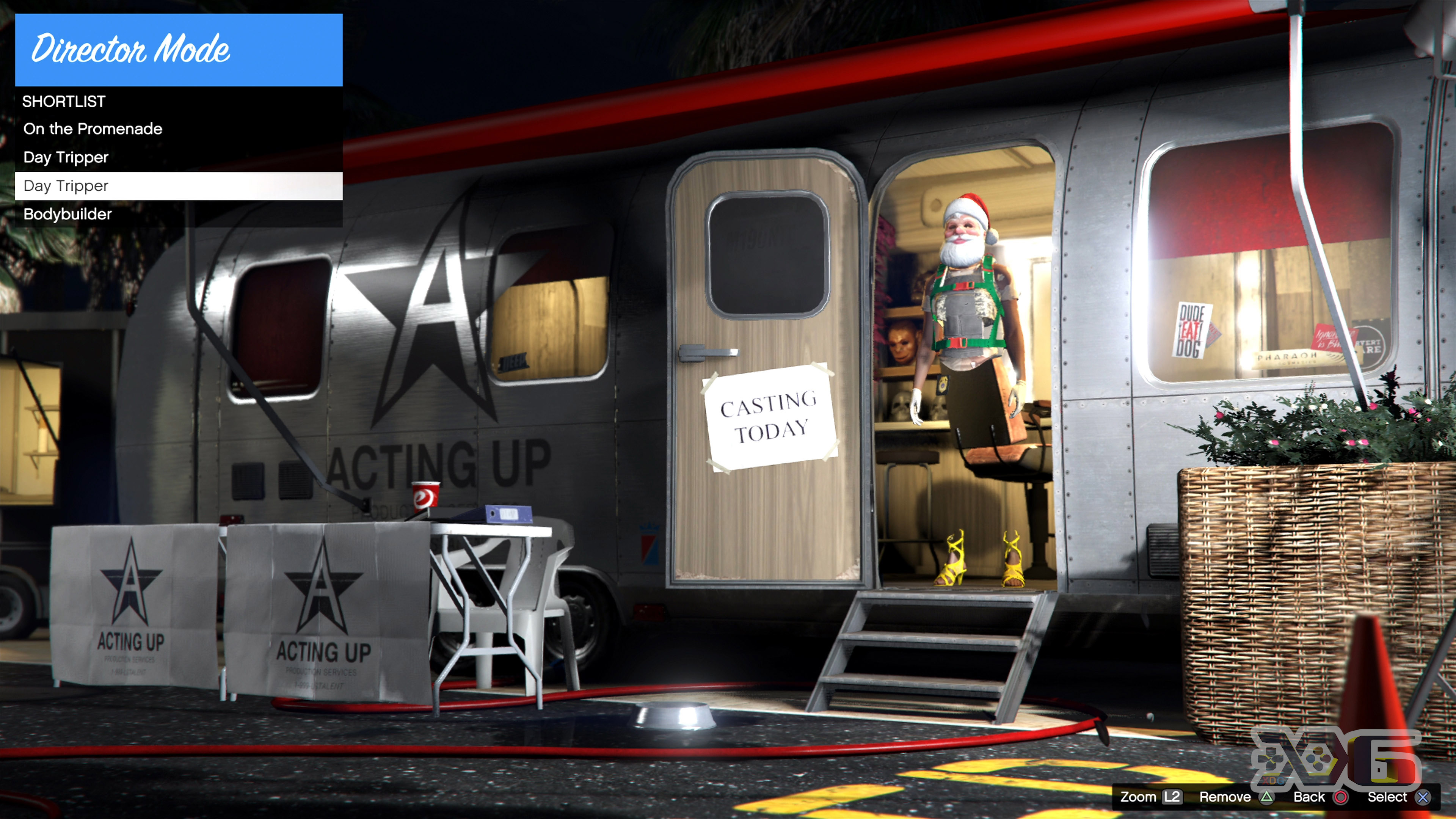 N.B Armor and Trench coats will block the badges from view. Look carefully!
Step 7. Take the Merged outfit Online
Once you have successfully merged the badges and chosen your outfit, it's now time to take it online!
Step out of the trailer with the outfit of choice
Wait for 10 – 30 seconds then go back to Story mode via the character wheel
Start an invite-only online session and you'll be booted back to story mode (you will see your glitched outfit for a split second before being booted)
Simply start another invite-only session and voila! You should be online with your glitched outfit and badges! Save immediately and then you can customize as you wish!
After 10-30 seconds go back to Story Mode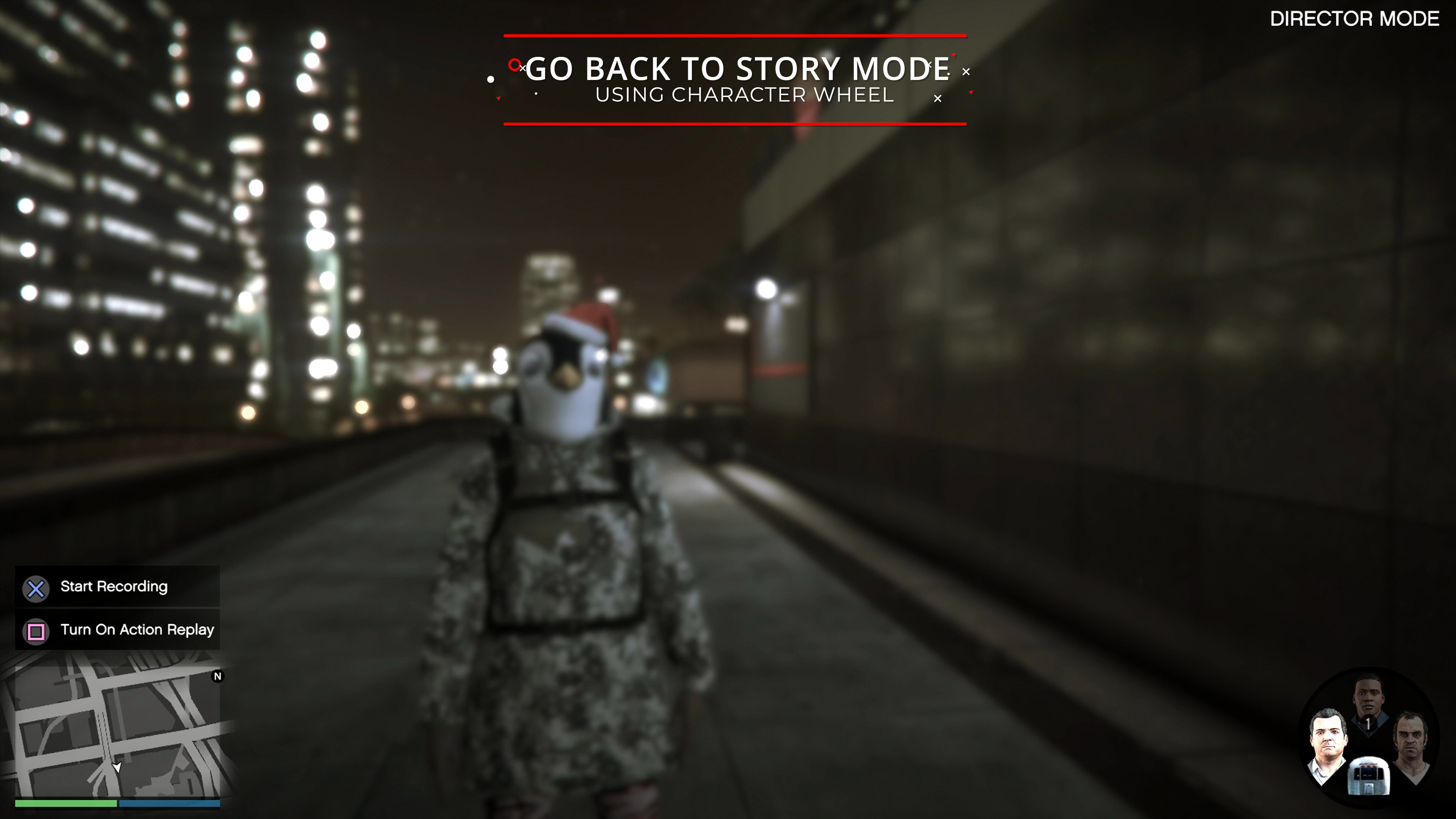 Start an invite-only session x 2
Voila! You should spawn online in your outfit & badges!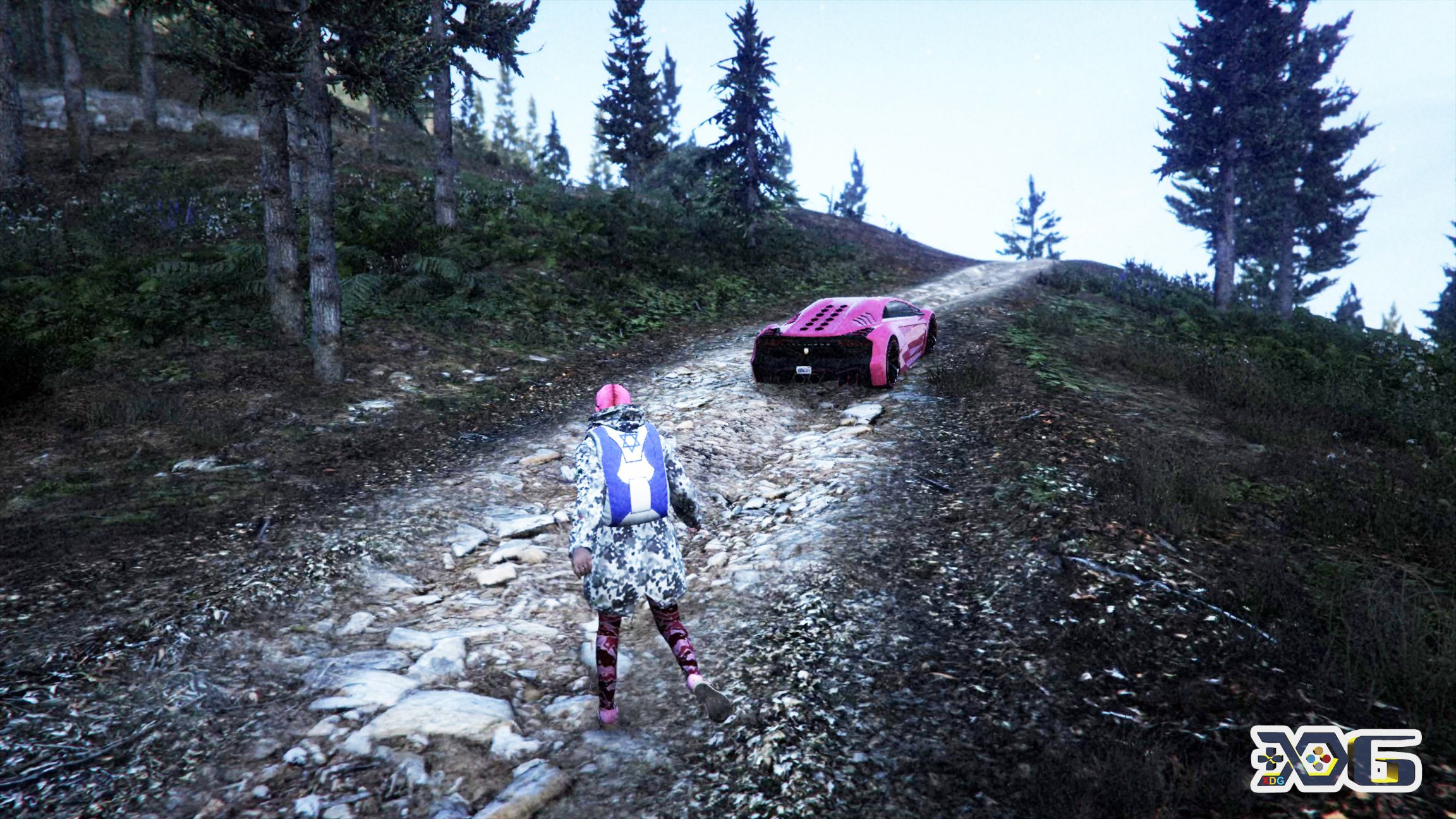 Customize the outfit to your liking!

The End!
Check out the tutorial video on YouTube!
Bonus!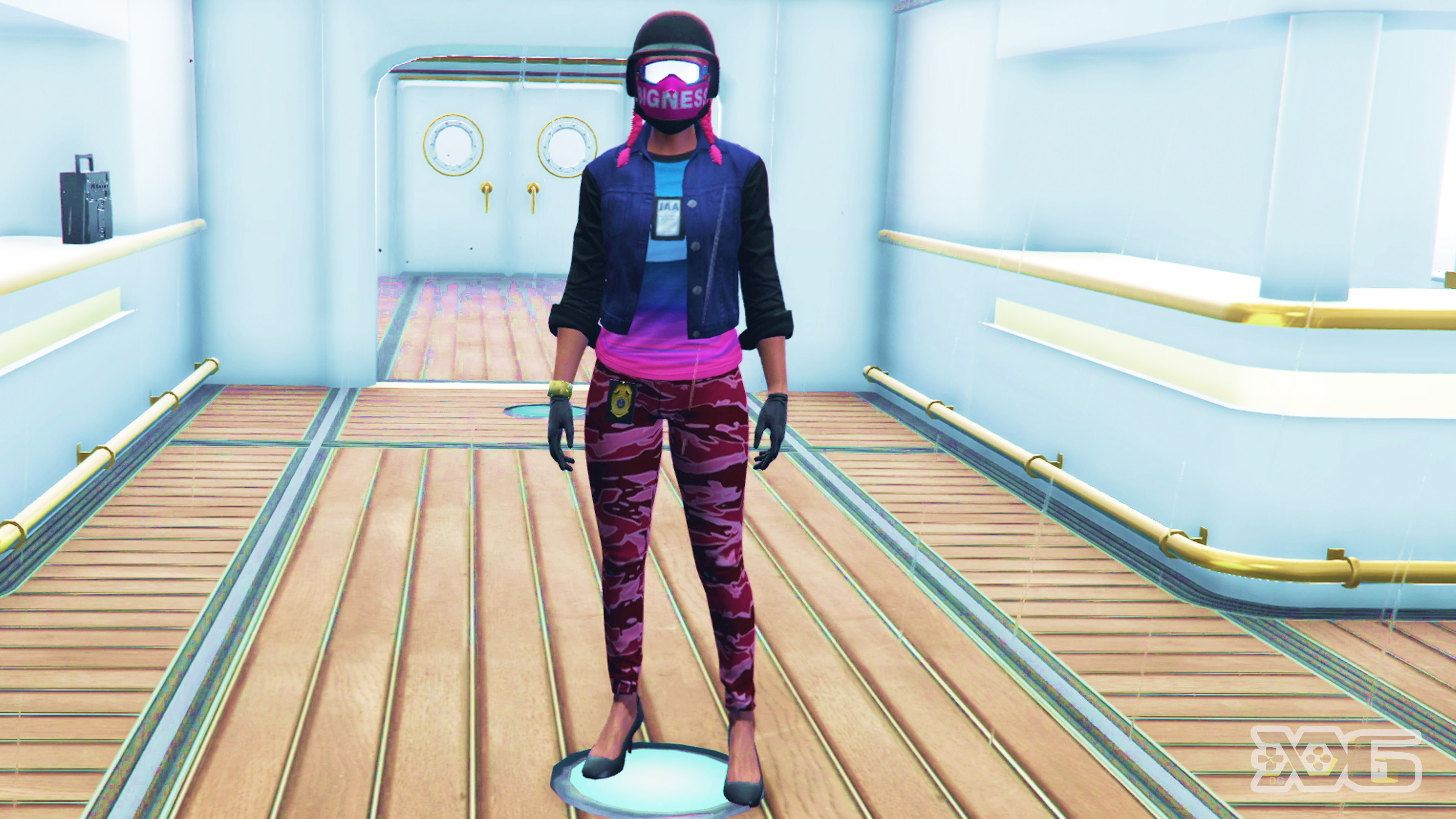 Below are the components of the above outfit! Have fun!
TOPS Arena War Tops – Future Shock – Blue Two Moons Tee (#5)
Denim Jackets – Indigo Denim Jacket (#8)
PANTS Leggings – Pink Tigerstripe Leggings (#7)
SHOES High Heels – Black Rounded Heels (#11)
ACCESSORIES Gloves – Black Leather Gloves (#52)
Cuffs – Gold Diamond Cuff (#29)
Glasses – Dark Urban Ski
MASKS
Ski Masks – Magenta Bigness Face
(Black Bulletproof Helmet – Telescope Merge)